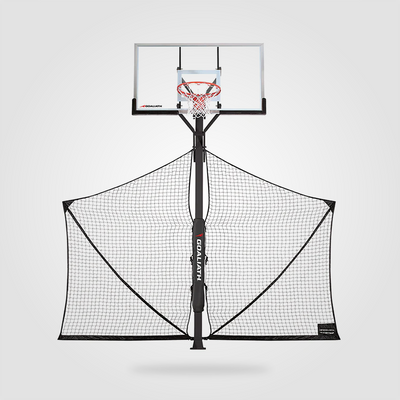 The Goaliath Yard Guard is compatible with the following basketball hoops from Goaliath: Ignite, Prodigy, and the Warrior.
The Goaliath Yard Guard protects your lawn and landscaping, allows players to have more efficient practice, and acts as a safety feature. Usually after a missed shot, a player must chase after the ball, wasting valuable practice time. With the Yard Guard, a defensive net basketball hoop system, missed shots stay in the court, allowing the player to quickly retrieve the ball and try again for maximum repetition. The Yard Guard keeps stray balls out of the landscaping and adds safety to your basketball system by keeping balls in the court, so players don't have to chase after them into the street. Spanning over 10 feet wide and up to 8 feet tall, the Yard Guard is a significant barrier between your court and your yard. After using your Yard Guard, the net and poles easily fold into a discreet storage position; simply gather the net and poles along the main pole of your Goaliath system and clip them into place. Then when you are ready to play again, unclip the net and the Yard Guard collapses into place in seconds. The Yard Guard easily installs in minutes by attaching to the main pole of your goal. Included brackets allow the Yard Guard to fit all Goalrilla units with a 4"x4" pole. This innovative accessory is built to last and will change the way you play basketball.
QUICK INSTALLATION – Quickly installs on any Goaliath hoop with a 4"x4" pole

CLEAN, DISCREET STORAGE – Easily folds for discreet storage

Fit: 4"x4" pole

Width: 10 feet

Height: 8 feet

Poles: Steel

Net: Nylon
"This has been the best thing we have installed to date! The kids spend hours playing outside with it and it is built for all ages to have fun with. Nothing else on the market compares to Goalrilla's basketball system."
- Vince M (Verified Customer)
"Since installing our Goalrilla 2 weeks ago, we haven't stopped using it. The quality is outstanding! It is located in our front yard and we continuously get compliments and queries from everyone who drives past! Even my 6 foot 4...
- Jayne O (Verified Customer)
"An awesome addition to our home, for the whole family! Long nights playing doubles with our personal backyard half court basketball hoop. It really is the best quality and looks amazing! A must have for any family who loves Bask...
- Jack C (Verified Customer)
"We've had the GS72C In Ground Basketball System installed for almost 2yrs now and we love it!. It is an amazing ring, has held up against various weather conditions and constant pla...
- Mark R (Verified Customer)