As Easy As 1, 2, 3
Step 1
Call 1100 Dial Before You Dig to check for underground assets. Dig a hole 500 x 500 x 1000 deep.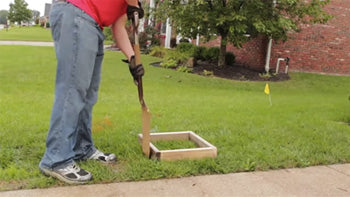 Step 2
Pour you concrete to court level and insert provided rebar and anchor kit.
Step 3
After at least 72 hours of curing, assemble your system and raise it into position.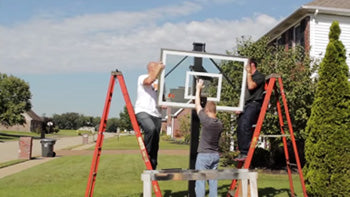 Installing Your Goal
Part 1: Installing the Anchor Kit
Part 2: Goal Installation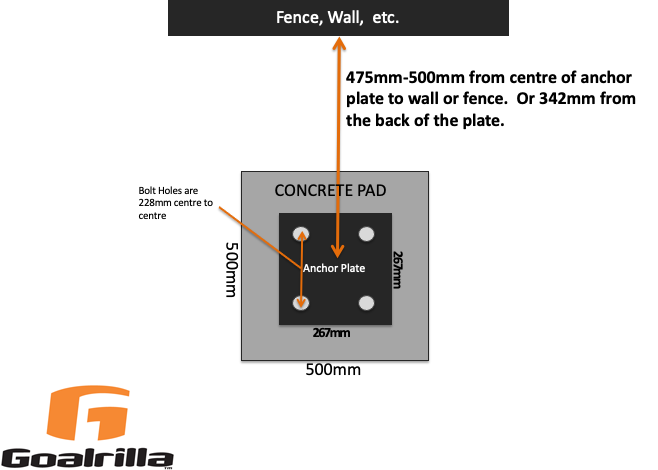 COMMON QUESTIONS
The recommended hole size is 16 inches in diameter and 48 inches deep. You will need eleven 80-lb bags of concrete for the installation.
IMPORTANT SAFETY PRECAUTION: Before you dig, call your local utilities to rule out the presence of buried cables including power, water, gas and phone lines. Failure to do so could result in serious or fatal injury.
For safety purposes, we recommend you have at least three capable persons to assist you.
For best results with less vibration, your Goalrilla Anchor System should be independent of your court. If pouring concrete for both at the same time, add an expansion joint in between.
The anchor system is set in concrete on Day 1 and requires at least 72 hours to cure. We recommend erecting your system on Day 5 to ensure the superior rock-solid performance for which Goalrilla is famous.
Too much overhang can reduce the amount of court space and cause excessive shaking due to the weight of the backboard being suspended too far from the main pole. Look for approximately 2 feet to 4 feet of overhang for the best balance of safety and performance. A basketball hoop with an overhang of 5 feet or more can compromise performance because the weight of the glass backboard will increase shake in the system. A basketball hoop with an overhang of 5 feet will actually encroach on the play surface by more than 7 feet once you add the 25 inches of rim that come out from the backboard surface.
Overhang changes as the basketball goal is adjusted. Goalrilla basketball hoops are adjustable from the safety-approved height of 7.5 feet to the NBA and NCAA regulation height of 10 feet. Use the Goalrilla basketball goal overhang chart below to find your model and learn the distance in overhang at each height.